Community-Led
Juvenile Diversion
Building A New Paradigm
in Youth Justice
THE CONFERENCE IS PRESENTED BY:
Applied Research
Center for Civility
SPONSORED BY:
Where
UC SAN DIEGO PARK AND MARKET
(1100 MARKET ST. SAN DIEGO CA)
REGISTER NOW
About the
Conference
Join other practitioners and researchers from across the United States for an applied research conference on the timely topic of community-led juvenile diversion.
Hear the presentation of a seminal Community-led Diversion Impact Paper by the UC San Diego Center for Research and Evaluation team.

Share best practices and build momentum around the ideas changing the juvenile justice landscape in this country.

Learn from other cutting-edge thinkers in juvenile justice, including government, non-profit and foundation sectors.

Collaborate with your peers in working group-style discussions designed to generate lasting impact.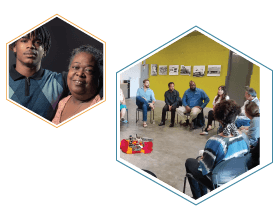 Agenda
SUNDAY, JUNE 4
Cocktail Reception
8:00am – 9:00am
Breakfast and Registration
9:10am - 9:45am
Keynote/questions
10:00am – 11:00am
Presentation of Impact Paper (UC San Diego)
11:00am – 12:00pm
PANEL: Government and Law Enforcement Partners
1:00pm – 2:00pm
PANEL: Community, Nonprofit and Foundation Partners
2:00pm – 3:00pm
NCRC and San Diego District Attorney Case Study
3:00pm – 4:30pm
Next Steps: Putting Theory into Practice
(Breakout Sessions and Report Back)
About the Impact Paper
The National Conflict Resolution Center (NCRC) and the University of California, San Diego (UCSD) have researched different approaches to community-led diversion; spoken to experts in communities, organizations, and jurisdictions around the country; and identified a set of best practices to support community-led diversion efforts. The result is an impact paper that traces the core ideas of community-led diversion, the many diversion points in the juvenile justice system, and the community-based resources that contribute to healthier and safer communities. The paper looks at the role of critical systems and practices such as probation, mentorship, and restorative justice. It takes a trauma-informed approach to understanding the supports that communities need to make available to diverted youth. To illustrate what community-led diversion can look like, the paper gives examples from around the country including an NCRC-supported community-led diversion program in San Diego: The District Attorney Juvenile Diversion Initiative. The success of this and other programs points to the wider potential for community-led diversion around the country.
About the Center
The National Conflict Resolution Center and UC San Diego together launched the Applied Research Center for Civility (Center for Civility) to conduct research for action into the methods, dynamics and best practices for addressing many of society's most challenging social issues Using NCRC's programming as a springboard, the Center for Civility designs studies, collects data and conducts quantitative analysis on how we can foster connection in divisive times.